Medical Lodging – Places to stay near Moffitt Cancer Center
As a family owned and operated business, your family is important to us. If you are dealing with a cancer diagnosis or caring for a loved one with cancer, Kong Vacation Homes offer clean, spacious, and comfortable single-family homes near Moffitt Cancer Center in Tampa. In a time of suffering, you should not have to worry about finding quality and safe housing, too. Let us help you live in comfort.
Both the USF Hideaway and the Sun Villa properties are great options for long stays or short visits during your treatment. The rental homes are equipped with complimentary high-speed WiFi, smart televisions, state of the art security systems, and on-demand maintenance for your peace of mind. At both properties, the kitchens are complete with all the tools necessary to prepare meals and the laundry rooms are equipped with a washer/dryer, iron, and ironing board for your convenience. Our property managers are here to make sure you have all of the comforts of home during your stay with us. We want you to focus your energy on healing, confident that your housing is safe, clean, and secure.
Here's what some of our guests have to say:
1. "Great location, great host and very clean and inviting home. We were not on vacation but had to be near Moffitt Cancer center. This was home away from home where we could all be together as a family. Host has very thoughtful and nice touches. Will definitely stay here if we ever have to return to this area." – Kathryn, Sun Villa guest
2. "This beautiful, clean, nicely-appointed cottage in a totally quiet neighborhood was my family's oasis while our father was at Moffitt. Everything is new – doors, windows, plumbing etc. BONUS: a sweet backyard with new privacy fence and sitting area, washer/dryer." – Ellen, USF Hideaway guest
3. "A lovely welcoming home that has been recently totally renovated by someone who knows interior design! Big functional kitchen, living room, dining room, all open for spaciousness. Lots of lighting. New appliances and basic dishes, pots, scissors, and things you need for comfortable stay. We ate the snacks/crackers out of Welcome Basket! Had we needed it, there was shampoo and conditioner and shavers…We visited Busch Gardens (nearly next door)! And Moffitt Cancer Center for consultation was very close nearby. We will try to stay there every time in Tampa." – Doty, Sun Villa guest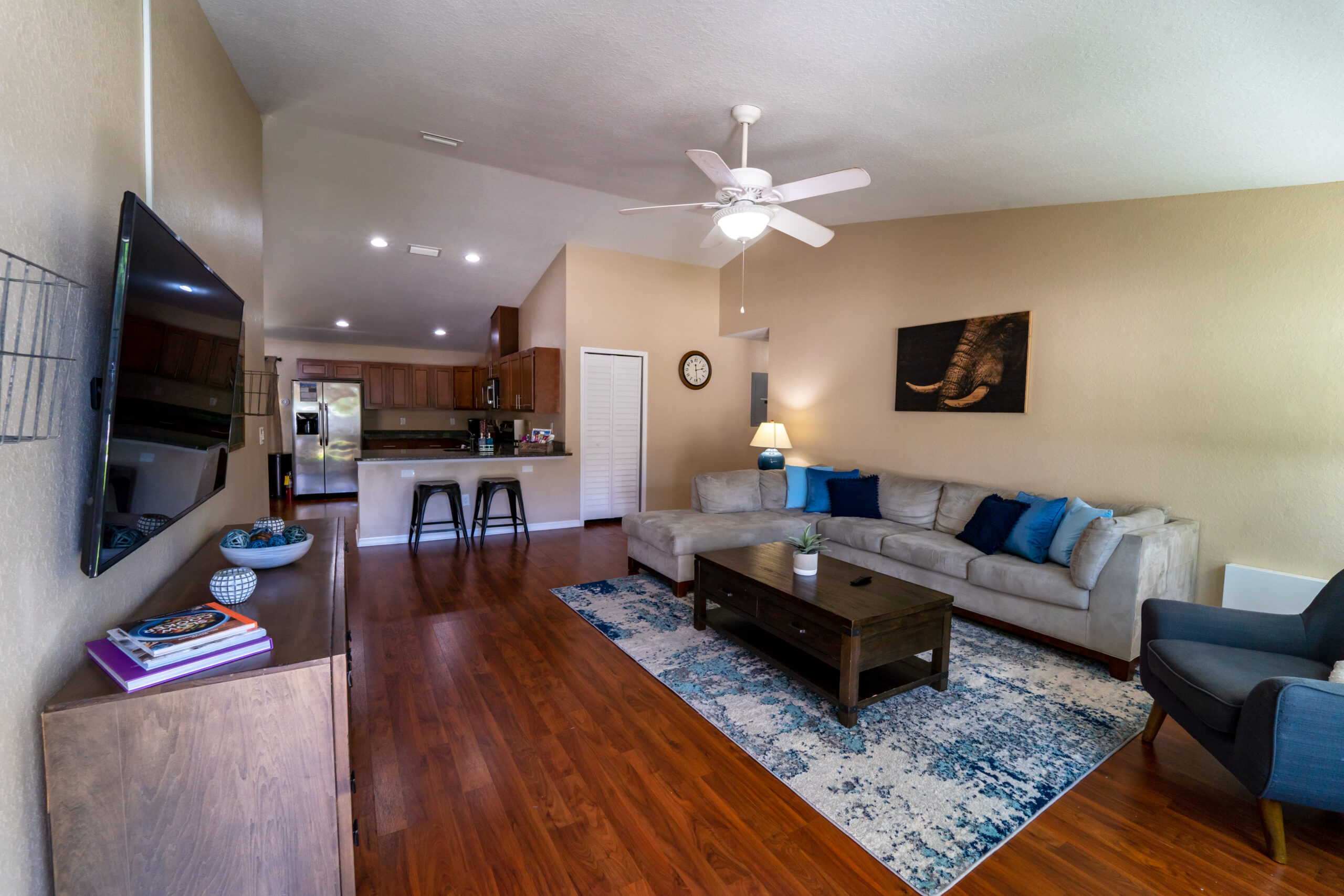 Sun Villa
Quiet, cozy brand new 3-bedroom, 2-bathroom house with a jacuzzi, a fenced backyard, and a smart security system!! Great for long stays or short visits, this home features fast WiFi.