Best Place to Stay Near Gulfstream Park Racetrack and Casinos
If you follow horse racing, you have probably heard of Gulfstream Park in Hallandale Beach. Since 1939, it's been one of the country's most important venues for horse racing, hosting some of the world's top thoroughbred contenders as they pursue the Triple Crown. If you're travelling to Hallandale Beach to check out this renown entertainment destination, Kong Vacation Homes offers the best places for you to stay while you are here!
Conveniently located between Fort Lauderdale and Miami, our vacation rental homes – the Palm Estate and Grey Manor – are not only close to the action at Gulfstream Park, but they are minutes from the Atlantic Ocean and other local attractions like Mardi Gras Casino and Aventura Mall. Whether you'd like to spend a day at the beach, play blackjack, or have an all-night adventure, you can come home to comfort! Our rental homes are located near Hallandale Beach Blvd., US-1, and Pembroke Road, giving you many options when it comes to restaurants, bars, shops, and stores.
All of the rental properties at Kong Vacation Homes are equipped with complimentary high-speed WiFi, smart televisions, state of the art security systems, and on-demand maintenance for your peace of mind. Your kitchen will be stocked with all the tools necessary to prepare meals and the laundry rooms feature a washer/dryer, iron, and ironing board for your convenience. Our property managers are here to make sure you have a first-class experience during your visit. If you're coming to Hallandale Beach to visit Gulfstream Park, don't gamble on your home rental – Kong Vacation Homes is the best place to stay!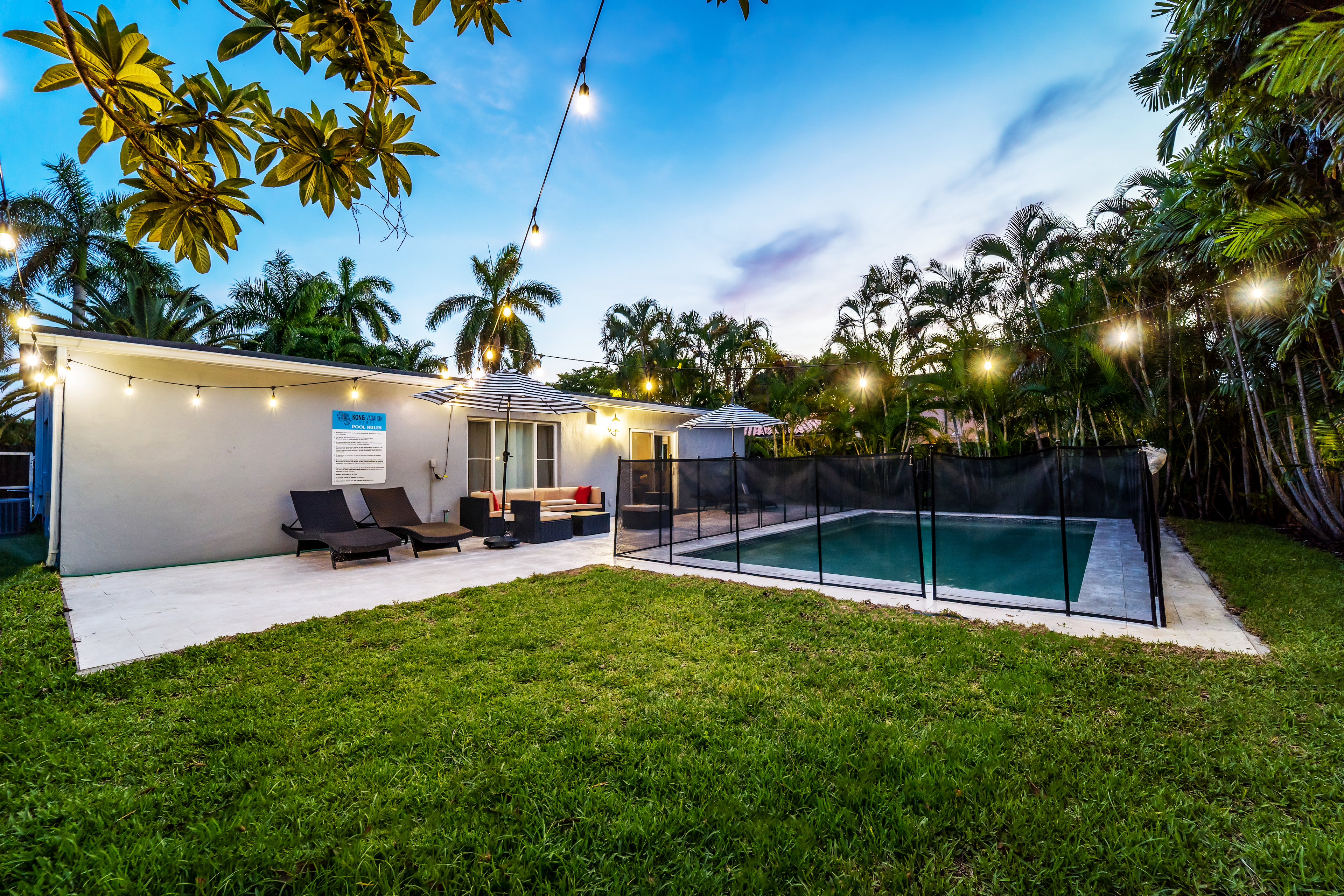 Grey Manor
This cozy 1550 sq. ft. 3-bedroom, 2-bathroom home with a smart security system includes a new pool in a private backyard. This renovated home features a spacious floor plan.