With Labor Day weekend marking the unofficial end of summer and school back in session, it feels like vacation season is over – but it doesn't have to be! We think that the months of September through November are actually the perfect time for a trip to the Sunshine State (or for locals to take a staycation)! Starting in September, temperatures and crowd levels are dropping, allowing you to really experience Florida's amazing outdoor attractions. Kong Vacation Homes offers single-family rental homes in top destinations like Tampa Bay, Hallandale Beach, Davie, and Zephyrhills, and we are sharing why we think you should consider taking a fall break!
What's There to Do?
Florida offers it all, all year long, but there's something special about the fall! Whether you're traveling by yourself, with friends, or with family, there's so much to experience – and now is the time to do it. You'll love the incredible beaches, internationally acclaimed theme parks, historic sites, national parks, zoos, aquariums, highly rated restaurants, world championship sports teams, and more!
September is the kick-off to the fall event season in the Sunshine State. Starting this month, you can visit Halloween nights at theme parks like Howl-O-Scream at Busch Gardens in Tampa, and city-wide dining months like Miami Spice and Flavor Palm Beach in South Florida. There are a ton of seasonal festivals, celebrating music, food, crafts, and Florida culture!
What Kind of Trip Will You Take – and Where Will You Stay?
If you're headed to Florida for a business trip this September, consider extending it for a few days to live like a local. If you are a remote worker, a vacation rental makes the perfect office space. All of Kong Vacation Homes' properties are private rentals, and all come equipped with complimentary high-speed Wi-Fi!
Maybe you just want a stress-free weekend to relax with friends and family? Kong Vacation Homes has several properties that accommodate eight to ten people, with sought-after amenities like furnished lanais and refreshing pools! In fact, the three-bedroom, two-bathroom Grey Manor in Hallandale Beach recently underwent renovations to its outdoor space. This beautifully updated rental home features a large paver patio in a fenced backyard with a private pool and plenty of seating. Located just a few blocks from Hallandale Beach Boulevard, US-1, and Pembroke Road, the Grey Manor is a convenient home base while you're in South Florida!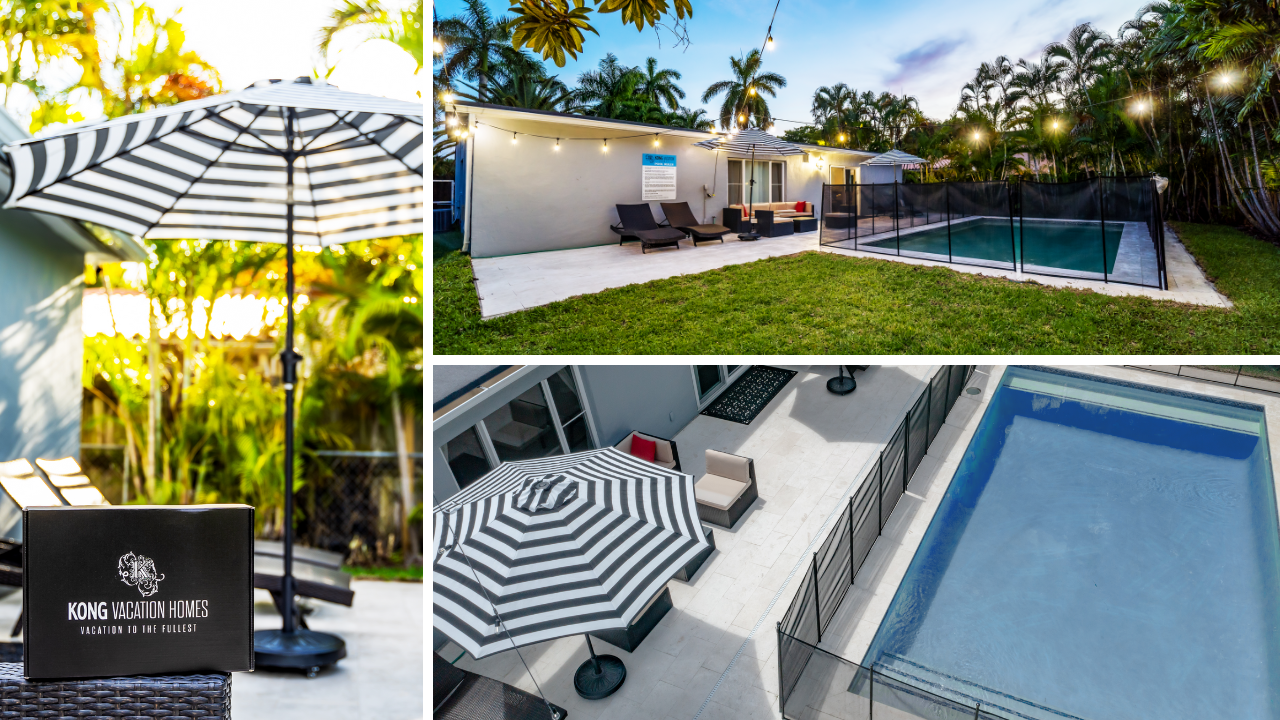 If you are a state resident, you can have a September getaway, too! Rent one of our properties that's close to your destination of choice, so you can have a family-friendly adventure by day and return to the comfort of your vacation home at night! Check the availability of our single-family rental properties at www.kongvacationhomes.com, where you can also book securely online.
What Will the Weather Be Like?
You may be thinking, "Will the weather be warm enough in September for me to use the pool or go to the beach?" The answer is a resounding, YES! Since Florida has a subtropical climate, September temperatures generally reach the high 80s from Tampa to Miami. It's definitely hot enough for a dip in the pool to be refreshing, but not as steamy as summer! Temperatures continue to drop in October and November, with highs in the lower 80s and lows in the mid-60s.
Just remember that hurricane season lasts through November, which means that there is likely to be some rain. The good news is that most rainfall happens during quickly passing thunderstorms. Just make sure to bring your umbrella or poncho with you when you're outside!
What About the Crowds?
Because kids are back in school and the hurricane season is here, the crowd levels in September are typically pretty low at Florida attractions, like theme parks and beaches. If you like extra space and shorter lines, it's a great time to visit! Just know that as we get closer to the holidays, the crowd levels will increase dramatically.
Have we convinced you to book a fall getaway yet? Whenever you stay with us, Kong Vacation Homes wants you to have "Your Experience, Your Way"! Contact us at 866-499-9026 or email info@kongmanagementgroup.com to learn more about our rental properties and to start planning your next trip!